Become a Member
of Adams Historical Society
It's easy......
Your membership not only supports the preservation of Adams' history but also entitles you to eight issues of the Society Newsletters, published throughout the year, which includes interesting stories and photographs of our town's past. The membership year usually starts in April. If you join during any other time of the year you will receive all the Newsletters published in that membership year.
Use your web browser's print button to print out a copy of the membership registration card below. Then mail it along with a check for the applicable donation to:
Adams Historical Society, 92 Park Street, McKinley Square. Adams, Ma 01220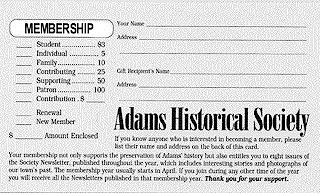 Thank you!